Contrary to what many have said, Congress, Arizona is NOT in the middle of Nowhere.
It's actually…
37 miles Southwest of Nowhere, AZ
39 miles Southeast of Nothing, AZ
89 miles East of Somewhere, AZ and
67 miles Beyond Hope, AZ.
So now you know exactly where Congress, Arizona is located.
Located at the Sierra Vista Motel, the smallest motel in Arizona
Click a photo to enlarge: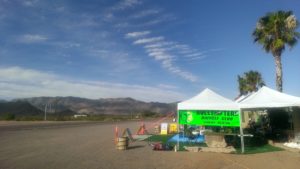 For any bike clubs out there who have never run a time station, I highly
recommend you consider it.  Getting to hear all the incredible stories from the riders and crews is priceless.  Having even  a small part in helping these incredible riders realize their dreams is worth every bit of time put into it.
Here is another link for RAAM:
And some ride routes:
Congress to Yarnell Route &
Profile
Congress to Prescott Route &
Profile